Dray Walk Gallery's great central location amongst Dray Walk's shops and boutiques,
benefits from footfall from both Brick Lane and the City. With a walkable distance to the city of London and all transport links as well as easy access to on-site car parks.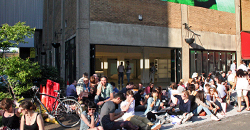 This open plan gallery features a dual aspect glass frontage that enjoys very good natural light as well as exposure, and it's very own front forecourt that can be utilised for the sale.
Dray Walk Gallery is an empty canvas waiting to be transformed.. Where you can compose your own identity and bring across your brand in creative ways, enjoying the freedom & flexibility from our part. Hire periods available from one-day sales to a seasonal shop, the possibilities are endless and potential is great.
Some of Dray Walk Gallery's regular designer and brand clients include Bathing Ape, Stussy, Hackett, Swear Shoes, Addict Clothing, All Saints, Boutique Sale, Sample Hunters, Office and many more.
Contact us for availability, quote requests and to book a viewing. You can check coming up sales and events at Dray Walk Gallery in our What's On? listings section.