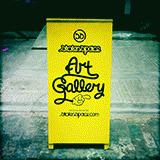 The London Police
http://www.stolenspace.com
StolenSpace Gallery

Friday 9th May - Sunday 26th May 2013
Tuesday - Sunday 11am -7pm

'It's All Fun & Games Until Someone Gets Hurt'
By The London Police

It's back to East London again for UK exports: 'The London Police,' for their first solo art show in England since 2009.
This time around, the Amsterdam based lads have themed their show around sports and games... And although they have totally mistimed their sterling effort of jumping on the Olympic bandwagon, the Essex born duo have produced a slick show of considered artworks and designer sport products.
Alongside canvas originals, TLP has produced an exclusive range of limited edition, designer pool cues and hand drawn cricket bats. The games theme continues with a unique painted vintage Monopoly board and photography from TLP's city-wide Monopoly Street Art installations in London.