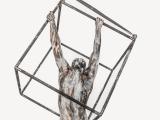 Transfiguration at Truman Brewery: Photographic Exhibition by Ben Hopper
http://therealbenhopper.com/
Shop 11

Private View: April 29 | 6pm - 9pm
Opening Times: April 30 – May 8 | 11am - 7pm

'Transfiguration' features renowned international contemporary circus artists and dancers, disclosing their unique physicality and exploring the spirit of the performer.
Like a mask, layers of body paint and powder disguise the identity of the subject, and release something animalistic from within. In the final images a sculpted, abstract, less human figure emerges.


Click here for more information!

Twitter // Facebook // Instagram // Tumblr