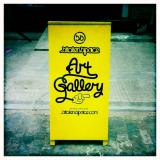 Stolen Space Gallery
http://www.stolenspace.com/
Gallery | 0207 247 2684

Friday 8th August - Sunday 31st August 2014 Monday: CLOSED | Tuesday - Sunday: 11:00am - 7:00pm

'Louder Than Words' By Luke Cornish (ELK)


A collection of new paintings by Luke Cornish inspired by his travels to refugee camps of Lebanon. Surrounded by the sound of gunfire, Luke draws on his artistic skills to bear witness to the suffering, hope, violence and everydayness of the displacement and conflicts.

This new body of work is one of difference and disparity. We are presented with the multiple dimensions that capture the mixed emotions and juxtaposition of zones of conflict.

Once again, Luke's work crosses the boundaries, taking us from 'street art' to the gallery. More importantly, however, is the boundary that he forces us to confront - from looking away to witnessing the horrors of war and displacement.